---
Photo © B. Randol
Sylvie Weil was raised in Paris and earned her degrees in classics and French literature at the Sorbonne. She has taught French literature at Barnard, Bennington, and Hunter Colleges, and the Graduate Center of the City University of New York. She is the author of several works of adult and young adult fiction.
♦ ♦ ♦
Selfies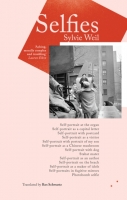 Translated by Ros Schwartz
"a brave, original and unsettling work"
– The TLS
"A new genre is born: the short selfie collection! Lively, inventive, compassionate, aching, morally complex and troubling, I loved these self-portraits more than anything I've read lately."
— Lauren Elkin
How to Take a Literary Selfie
Sylvie Weil on what it means to take a literary selfie. Translated from the French by Ros Schwartz.
♦ ♦ ♦
Elvina's Mirror
2010 Sydney Taylor Book Award, Notable Book for Older Readers
"With a varied cast of characters and an action-packed plot, Elvina's Mirror will keep the young reader's interest from beginning to end." – AJL Newsletter **
Read more »
**
At Home with André and Simone Weil

"A magnificent narrative which brings back to life the brother and sister, born three years apart yet very like twins, both superlatively gifted."
– Le Monde